On-Site Training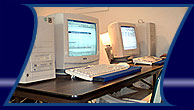 ASR Services
offers private, customized, on-site training for clients whose time is too valuable to spend following a generalized curriculum. We offer personalized computer training tailored to meet your needs, schedule, and conducted in your office. The benefits of
LASR Services
coming to your site are numerous. Here are just a few:

Convenient and cost effective.


Eliminates travel time and expense.

Learning in a familiar environment.

Working with your own PC and information.
Move yourself to a higher plateau by learning the latest skills in Internet and Computer Technology. Seek the finest training that is essential to your personal growing needs.
LASR Services
training prepares you to become a more
knowledgeable, efficient, effective, and valuable person, as well as a more educated technology consumer.